Perfectly printed parts in PEEK
with full raw material properties in all directions

Completely voidless additive manufacturing
ensures maximum pressure resistance

Our parts from high-performance polymers
are certified for use in critical applications
Rethinking engineering
and manufacturing in

3D PEEK Printing
Bond3D is on a mission to transform the manufacturing of essential parts for critical applications. We create cutting-edge technology that takes high-performance polymers into the future of additive manufacturing. Not just for single prototypes, but for production at an industrial scale.
We work with engineers around the world to create impossible parts with unseen capabilities in the most demanding businesses. Faster, cheaper, and better than ever before.
Microns make a

huge difference


in voidless printing
Bond3D's unique technology combines all the great properties of the PEEK base material with the benefits of additive manufacturing. Bond3D creates parts that have isotropic strength in all directions and are 100% voidless. That means making high-end products with fewer components, less weight, and less waste. For the first time, printed parts are certified for use in critical applications.
How PEEK parts can change your industry
Bond3D High-Performance 3D Technologies BV operates out of Enschede, the Netherlands. Since 2014 we have always been at the forefront of industrial 3D printing. Our patented technology is unique in its ability to produce functional parts from high-performance polymers that are certified for use in critical applications.
At Bond3D, we develop our unique printing technology completely in-house, including system mechatronics, software, slicing technology, and process validation. We change the conversation on engineering in medical, aerospace, energy, automotive, manufacturing, and engineering applications.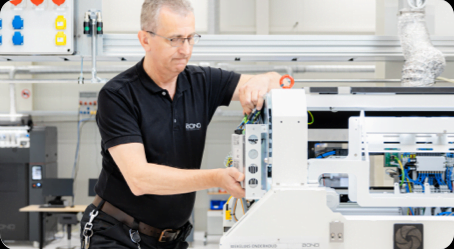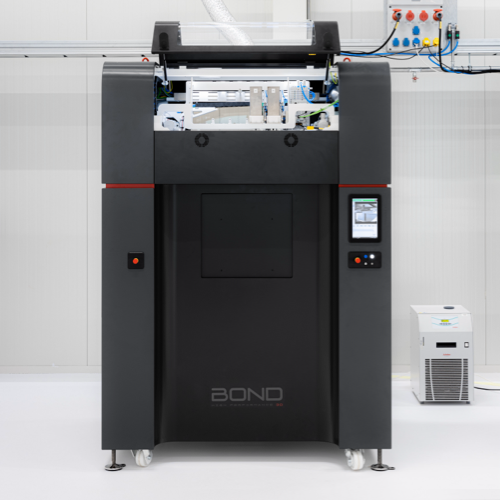 High tensile strength
resulting from patented
solution to produce parts
virtually free of voids
High-performance polymers, such as PAEK, are used for many critical applications in the medical, automotive, aerospace and other industries with conventional manufacturing technologies (injection molding, extrusion, CNC machining). Bond3D is the first company in the world that is able to print functional products from high-performance polymers without losing the inherent characteristics of the material.