Save on weight and support fuel reduction
High performance polymers


contribute to a more energy efficient
automotive industry
High performance polymers will play a role contributing to a cleaner, safer and more energy efficient automotive industry. Weight reduction saves on fuel consumption. Furthermore, tribological performance of materials such as PEEK assists in making powertrains operate more efficiently.
For Bond3D' technology part complexity, smaller lot sizes during development, or even spare part production are significant opportunities within the automotive industry. These opportunities are recognized across the entire market spectrum starting from racing cars to applications for commodity electric vehicles.
Critical parts made from
PEEK
These parts can change your industry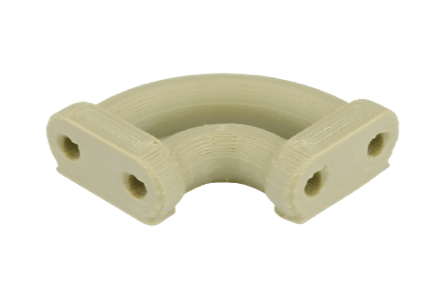 Tube for EV Battery cooling
Optimizing battery systems using less parts and leak-tight PEEK cooling tubes.
Leak-tight manufacturing         Reduce parts          Low weight          Flow optimization
Bracket for high-voltage motor cables
Isolating the phase cables from a 700V electric motor to the inverter. 3d-printing allows our customer to make last-minute changes in the prototype phase.
Electrical isolation         Short lead time         Digital stock         Flow optimization